The Fortnite Item Shop has updated to display all of the Fortnite skins and cosmetics for 12th December. The Fortnite store includes featured and daily items which include skins, gliders, pickaxes and emotes. Today's item shop includes previously leaked Fortnite skins
Yesterday, the Fortnite Item Shop had a bundle available for purchase, the Leviathan Bundle. Epic added the first bundle to the item shop on the 23rd November, the Wukong bundle. However, there were some issues that Epic discovered which needed to be addressed, resulting in bundles being temporarily disabled.
The Item shop for 11th December also included the Valkyrie skin, Growler and Flapjackie. Today's cosmetics include two Fortnite skins that were leaked in a previous update, the Cloudbreaker and Wingtip skins.
Here are all of the Fortnite skins and cosmetics in the item shop today: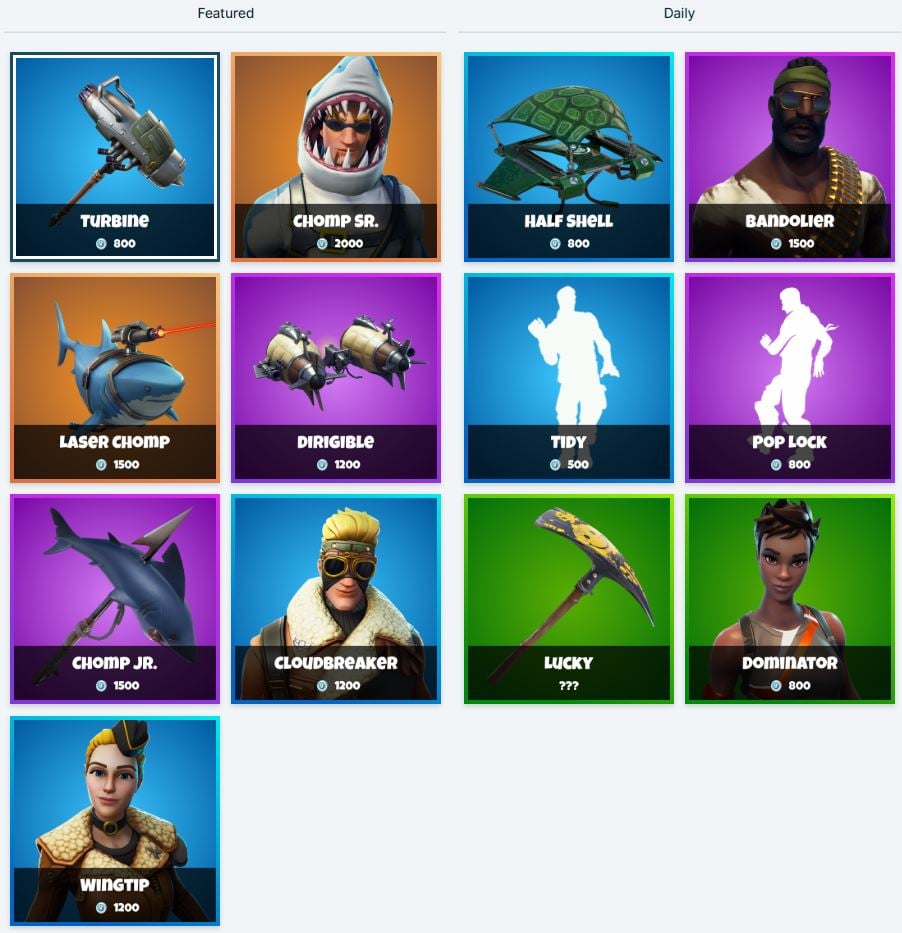 FEATURED ITEMS
Cloudbreaker Skin (Rare) – 1,200 V-Bucks
Wingtip Skin (Rare) – 1,200 V-Bucks
Dirigible Glider (Epic) – 1,200 V-Bucks
Chomp Sr. Skin (Legendary) – 2,000 V-Bucks
Laser Chomp Glider (Legendary) – 1,500 V-Bucks
Chomp Jr. Pickaxe (Uncommon) – 1,500 V-Bucks
DAILY ITEMS
Tidy (Rare) – 500 V-Bucks
Half Shell Glider (Rare) – 800 V-Bucks
Bandolier Skin (Epic) – 1,500 V-Bucks
Pop Lock Emote (Epic) – 800 V-Bucks
Lucky Pickaxe (Uncommon) – 500 V-Bucks
Dominator Skin (Uncommon) – 800 V-Bucks