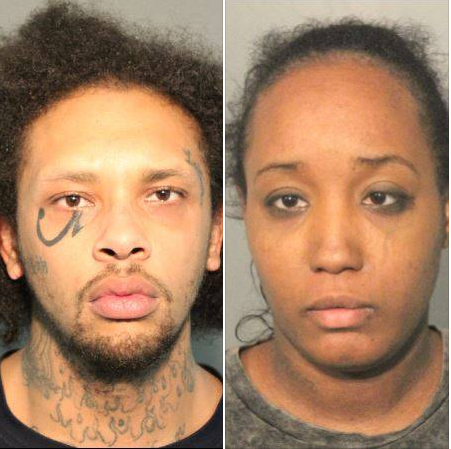 Police in California have arrested a couple accused of neglecting and torturing their 10 children for "sadistic purposes," keeping them in a "squalid" home flecked with spoiled food and animal feces.
The children, who range in age from 4 months to 12 years old, were burned, bruised, punctured, and shot with a pellet gun, Fairfield Police Lt. Greg Hurlbut said in a press conference Monday.
After conducting extensive interviews with the children over the past six weeks, authorities said they discovered "a long and continuous history of severe physical and emotional abuse of the children," and arrested the children's parents, Ina Rogers and Jonathan Allen, on child neglect, torture, and child abuse charges.
On Monday, Allen, 29, was arraigned on seven felony torture charges and nine counts of felony child abuse, according to court records. He's being held at Solano County jail on a $5.2 million bond and has pleaded not guilty.
"I'm horrified by the statements given by these children," Chief Deputy District Attorney Sharon Henry said Monday, adding that the kids had been tortured "in this case for sadistic purposes."
Rogers has been charged with child neglect but was released last month after posting bail. The 30-year-old has ardently denied the charges against her and defended her husband, calling the allegations "appalling" and arguing that "not one of my kids even has a cavity."
"My husband is an amazing person. I am an amazing mother," she told reporters from her doorstep Monday. "I am not going to stop fighting."
Authorities said they stumbled upon the house, which they described as squalid and unsafe, after receiving a call on March 31 about a missing 12-year-old. When police found the boy and brought him home, they searched the residence and found nine other children, whom they say they then "rescued from horrible living conditions."
Rotten food and feces covered some floors, while other areas of the home were impassable, Hurlbut said Monday. A video taken from inside the house shows filthy rooms filled with piles of toys and clothes, doors pulled off their hinges, and mattresses pushed up against the walls.
Officers immediately took the children and placed them in protective custody and arrested Rogers, charging her with neglect. She was released after posting $10,000 bail.
Rogers pushed back against the police's characterizations of the home, explaining that she had torn apart her house while looking for her missing son.
"Fear set in … that my son was missing," she told reporters, according to CBS News. "So I ripped up my whole house … tore everything out of the closet, lifted up the beds."
She described herself as a hard-working mother who homeschools the children while working as a medical technician full-time, ABC 13 reported.
Of the 10 children who had been living in the home, Roberts said that eight were fathered by Allen, and the other two were hers from previous relationships. Rogers told reporters that she also has another child, a 14-year-old, who does not currently live with her.
"Why would I ever have a house full of children who were abused or allow them to be abused?" she asked the media Monday. "Anybody who knows me personally knows…this is out of my character…all these allegations are ludicrous…"
However, neighbors say they were shocked to learn there were children living in the normal-looking suburban home in a "really nice and friendly" Northern California neighborhood.
"We were all shocked to learn there were kids living there," Linda Henick, who lives across the street, told AngleNews Tuesday morning. "Once in awhile you would see the parents go from their car inside but that's it. Never any children coming in our out or playing."
The family had moved in less than a year ago and kept to themselves, she said, a contrast to the rest of the neighborhood because "we know all our neighbors and watch out for each other."
Other residents, like Larry Magney, told SF Gate that he didn't know children were in the house until Rogers asked to check his backyard for her missing son. Tonya Roth told the site she thought they had three children and sometimes heard "kids playing in the backyard late at night. But that was the only time."
"I always wondered how could people know that something like that was going on but we truly never even knew the kids were there," Henick sighed. "We've all been texting about it and no one knew. It's terrible."