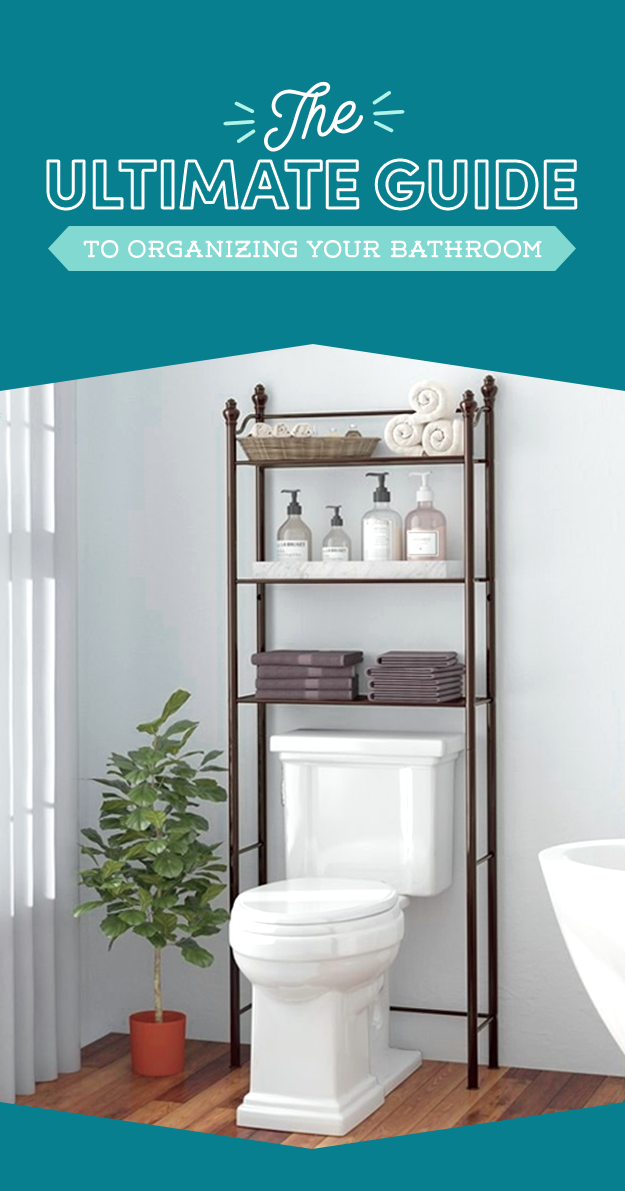 1.
First things first: go through all your cabinets and toss anything that's expired or past its prime, or that you just plain don't use. (And recycle the containers, if you can!)

2.
Hang caddies on water-resistant hooks so everyone has their very own shower rack.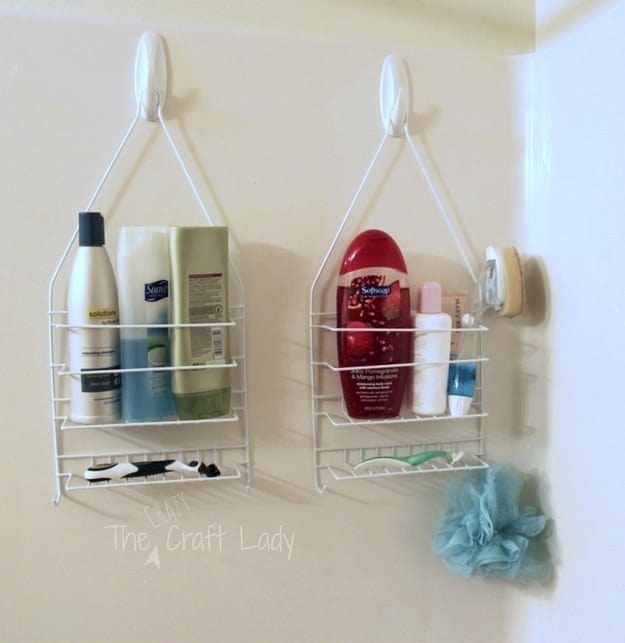 3.
Or try a removable-adhesive plastic caddy (or two) that you can hang at whatever height works best for you, and that will never leave you dealing with rust.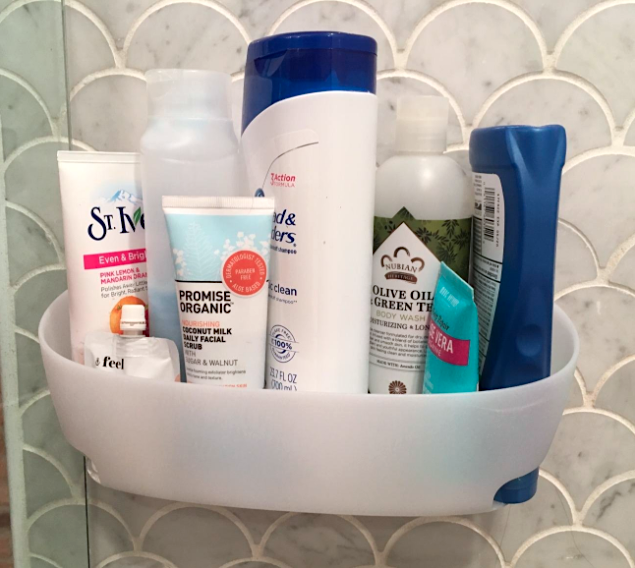 4.
To entirely declutter the walls and edges of your tub, store the bottles you like least in a handy pocket organizer that hides behind your shower curtain.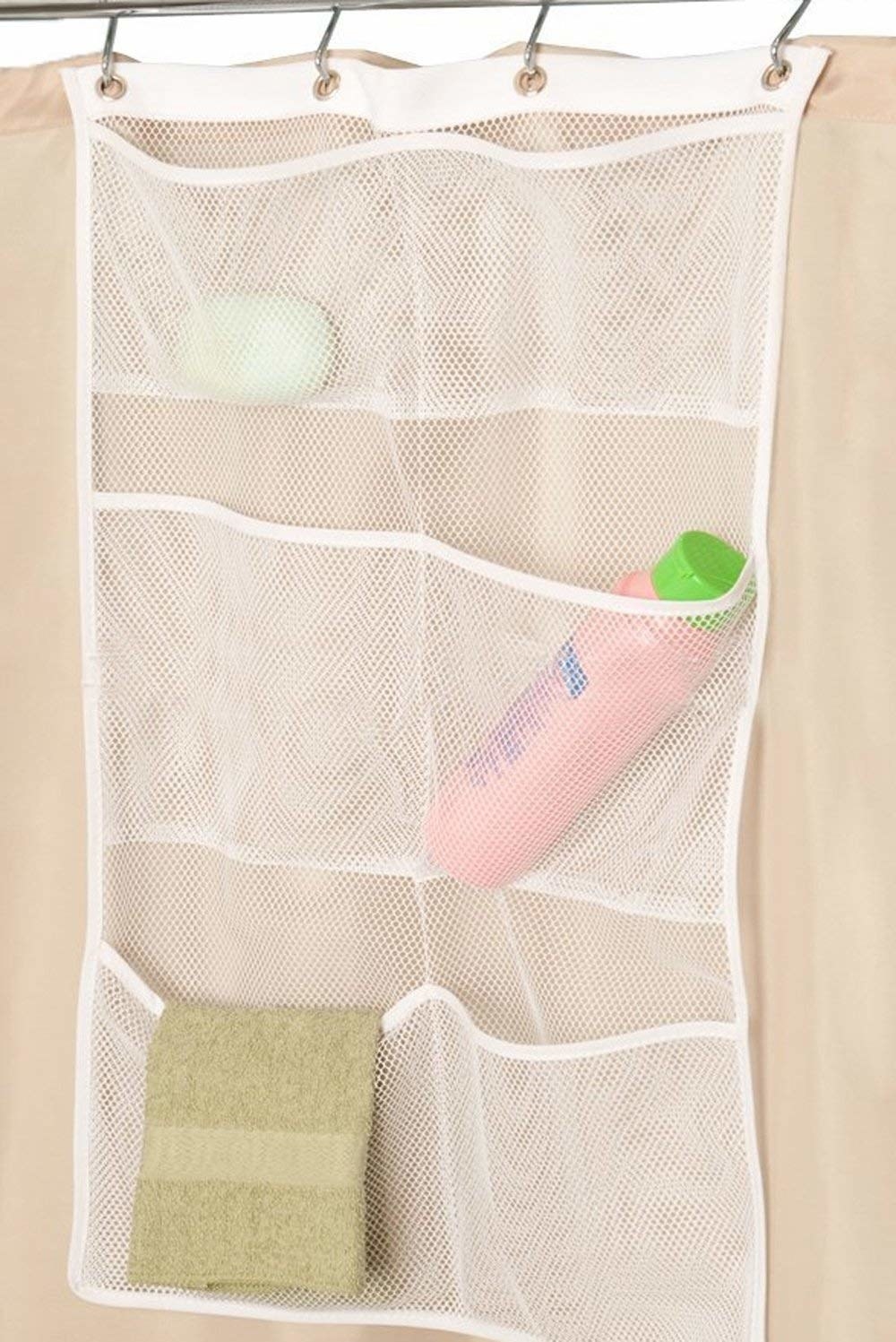 5.
Enlist an extra lingerie bag for bath time duty: it makes the perfect fishing net to pick up all the toys, then quickly bunches up and hangs everything to dry while you're reading the bedtime story.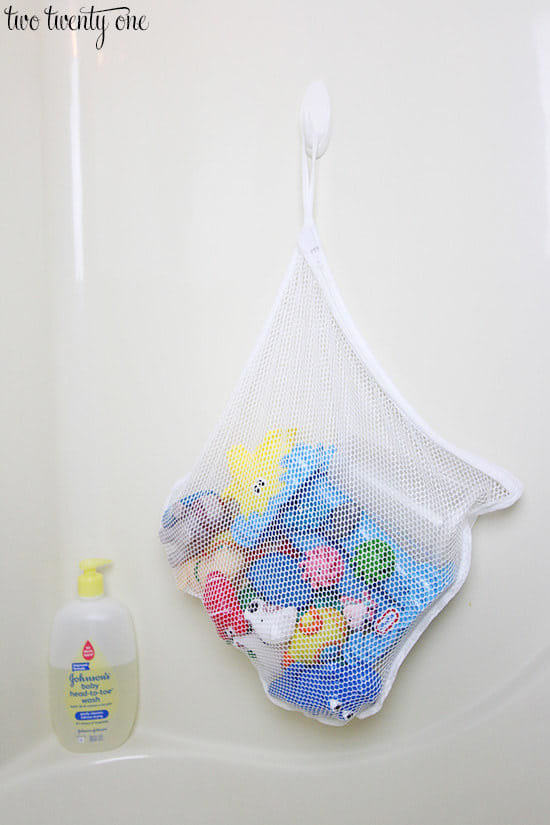 6.
Or if you have way more toys than could possibly fit in a single bag, a second shower curtain rod might just save the day.
7.
Hang three or four towels in the same amount of horizontal space as a single towel rod with a hook rack.
8.
Or, if you're not concerned about kids being able to reach them, a three-tier over-the-door towel rack might be just the solution you need.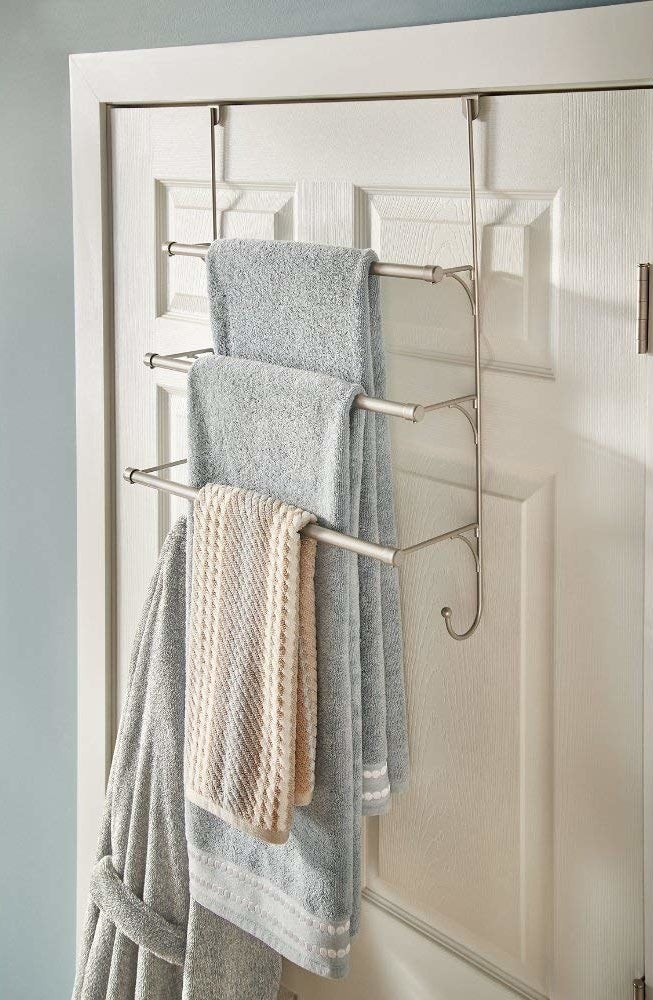 9.
Sort out cluttered drawers by giving each drawer a specific purpose, then fitting it with basket trays that give everything in the drawer a designated, sensible place.
10.
Or opt for a set of six clear, stackable trays you can rearrange over and over again, as the makeup you wear most changes.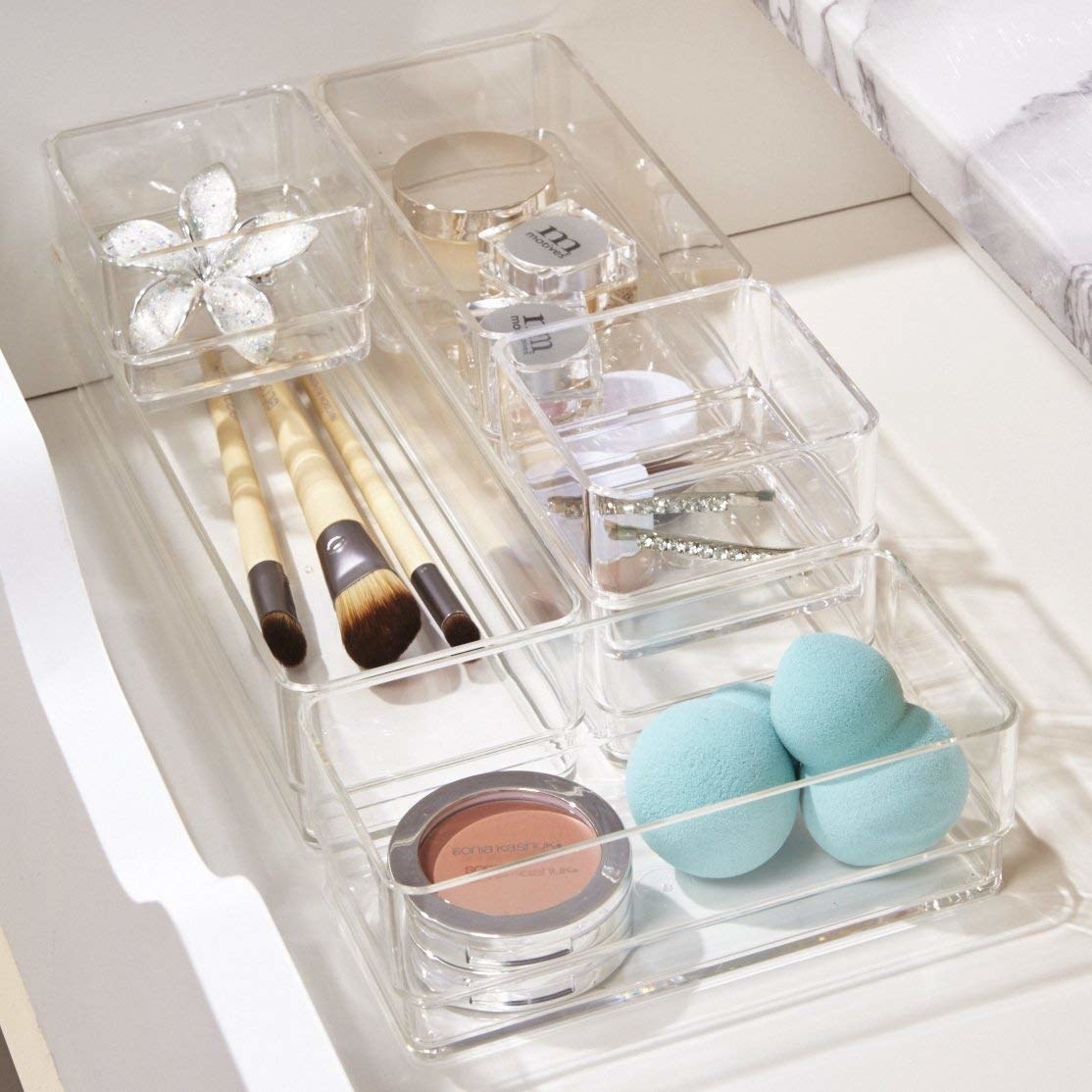 11.
If you prefer to display your makeup out on your cabinet, make it all easy to access by stacking it on a wide, four-level palette organizer.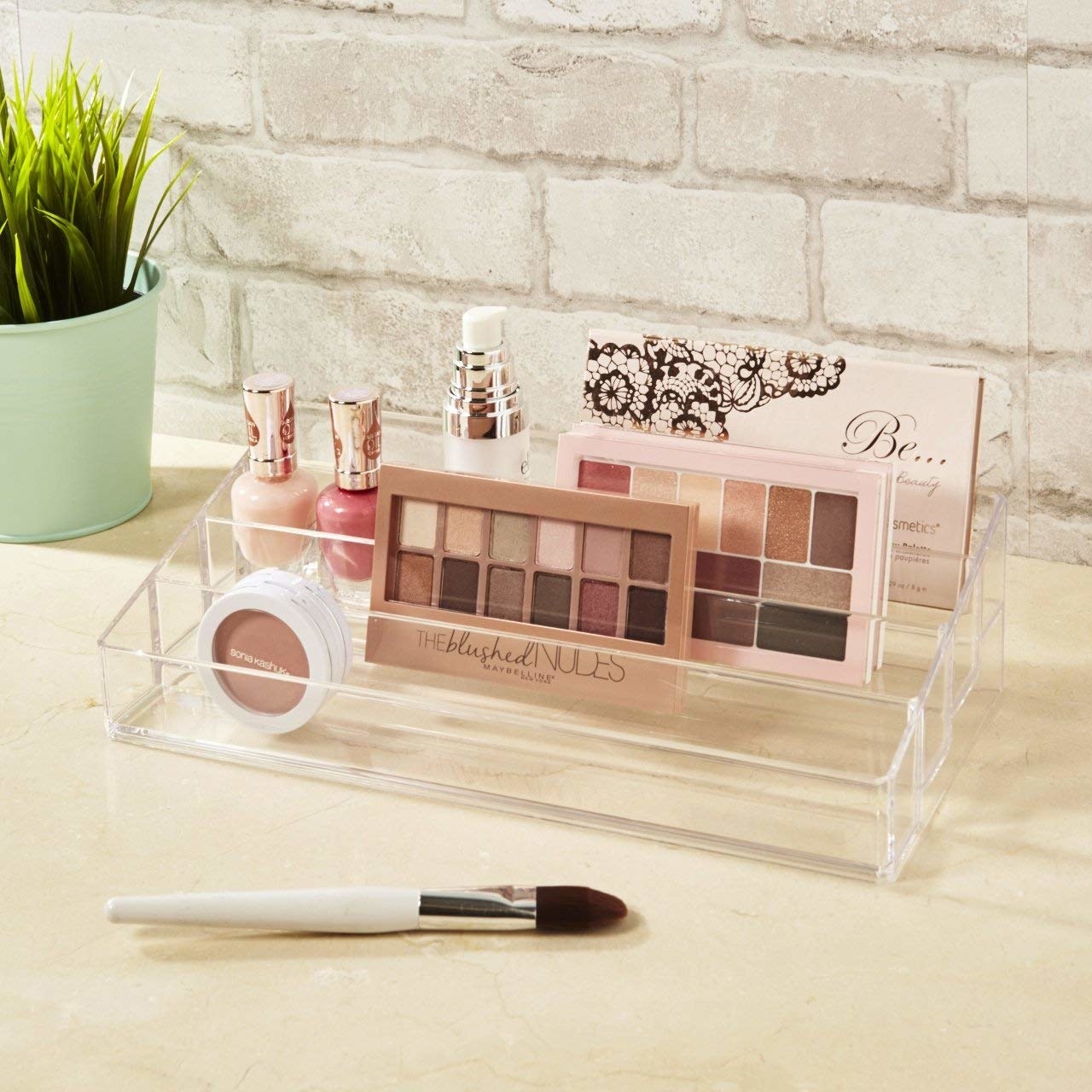 12.
Then keep your makeup brushes close at hand by repurposing an old candle jar and adding your favorite vase filler (or just buying one that's already made).
13.
And store cottonballs and cotton swabs in containers that'll make you happy every time you reach to use one.
14.
If you share a bathroom, a plastic silverware drawer organizer's the perfect way to store toothbrushes without risk of the bristles touching.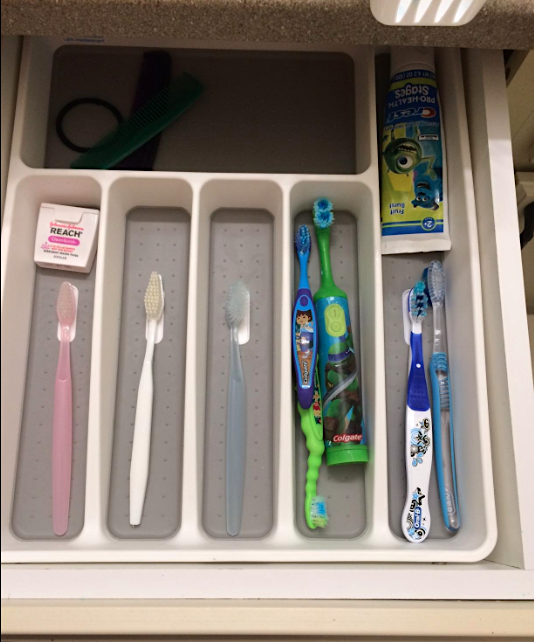 15.
Magnets are the ultimate solution to your bobby pin woes: either attach a strip of adhesive magnet tape in a drawer or to the back of your medicine cabinet, or stick 'em in a paperclip organizer.
16.
Slip all your hair ties onto a carabiner so you can hook it wherever it is you need hair ties the most, like your gym bag or bathroom cabinet.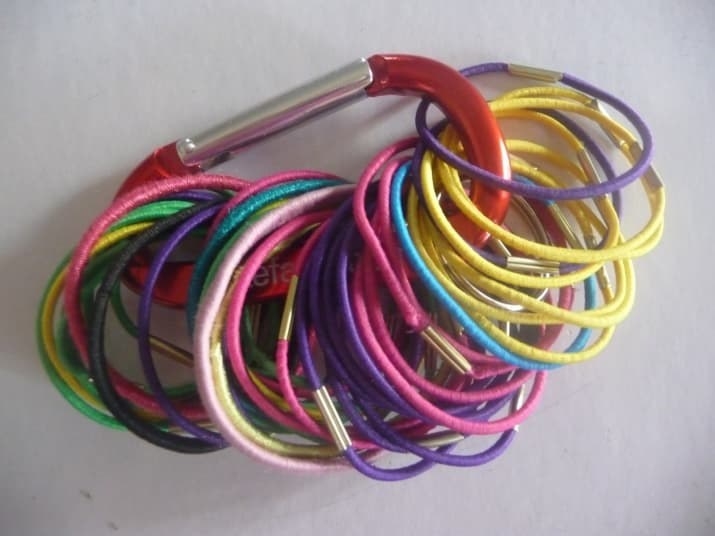 17.
Maximize every square inch of space under your cabinets with a stack of plastic drawers — if it's a shared bathroom, each person can get their own drawer.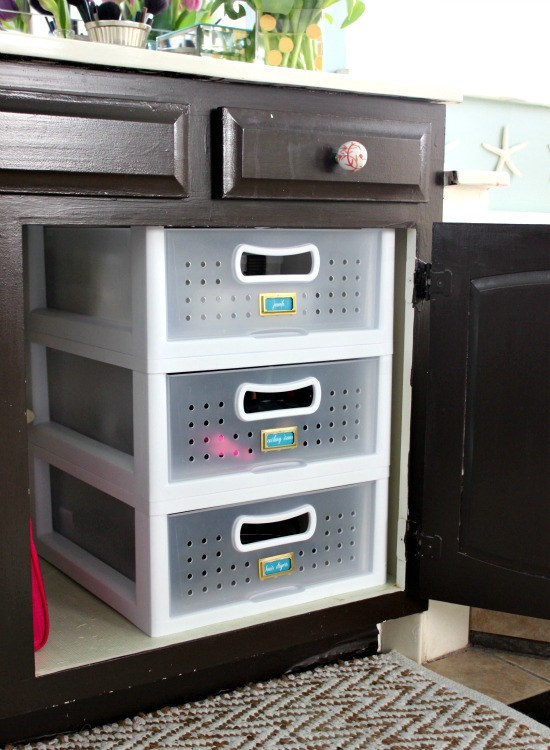 18.
Take complete advantage of the inside of your cabinet doors: you could mount small plastic baskets…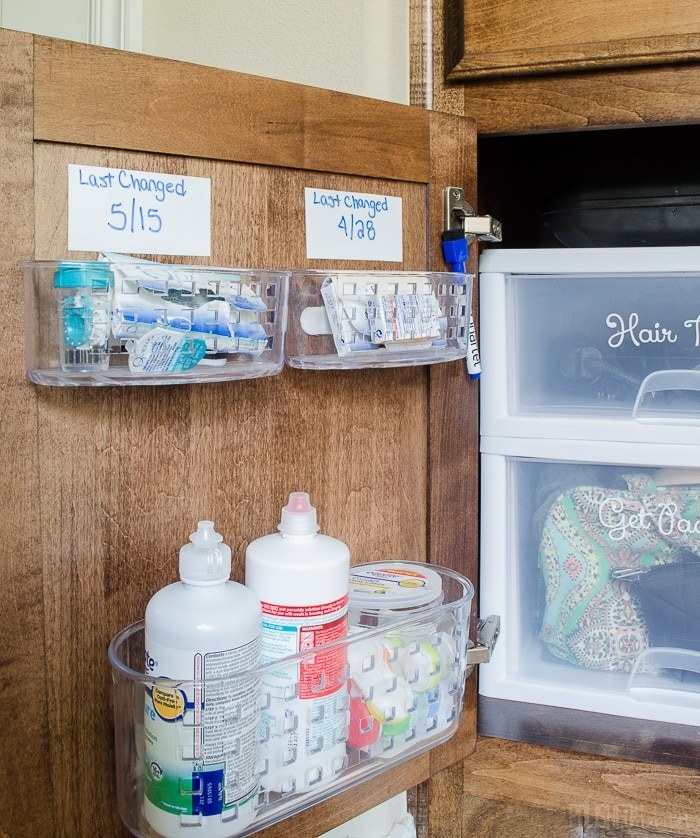 19.
…hang a caddy that can store several different hair tools…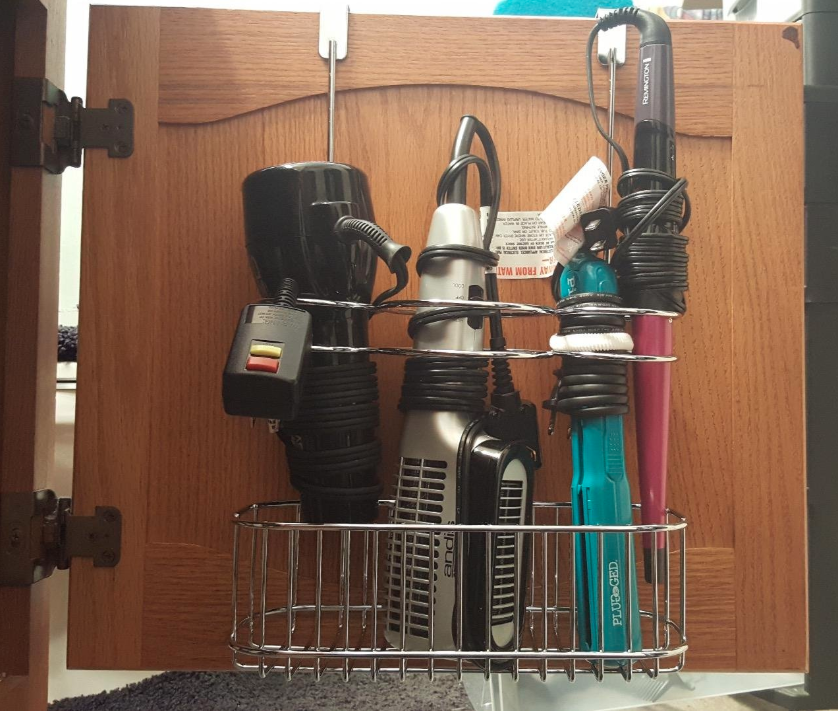 20.
…or even use it for a trash can that takes up zero floor space (and is out of reach of any nosy pets).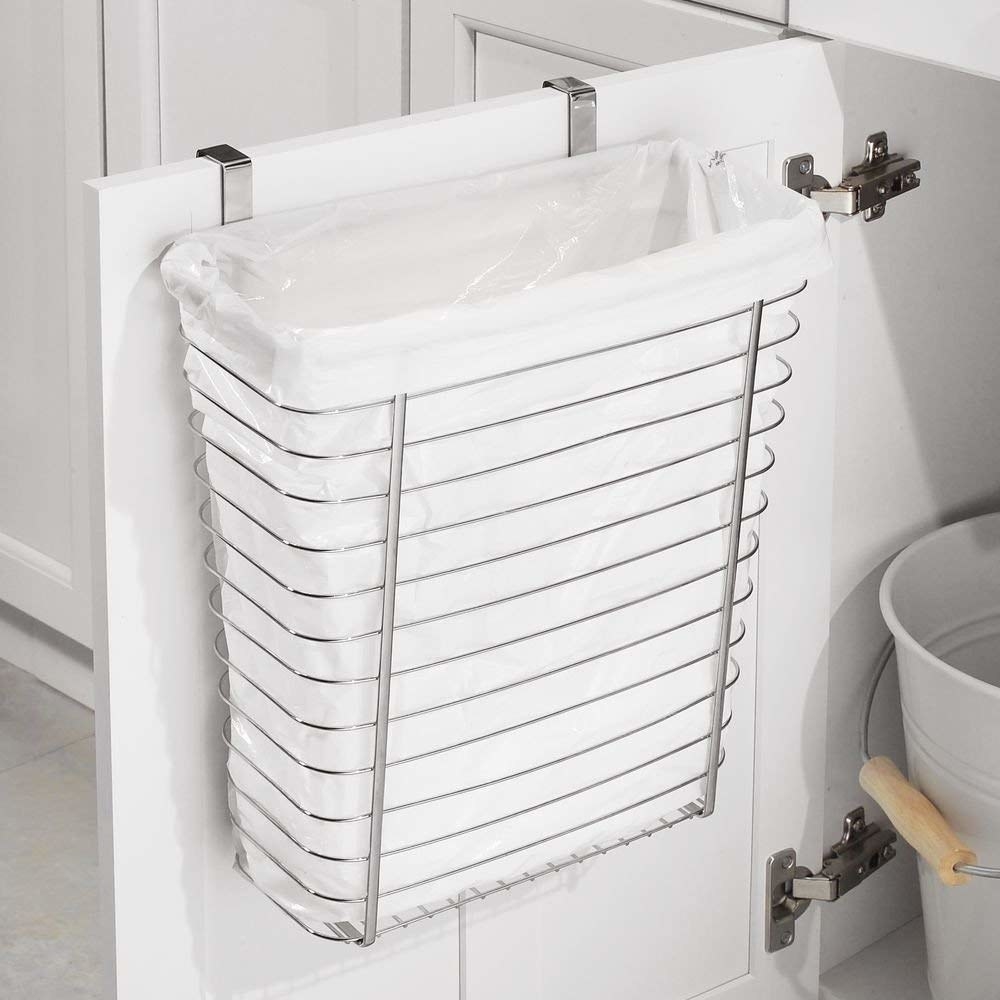 21.
Two Command Hooks + a repurposed file basket can mean extra storage space on the side of your cabinet for whatever you reach for most often.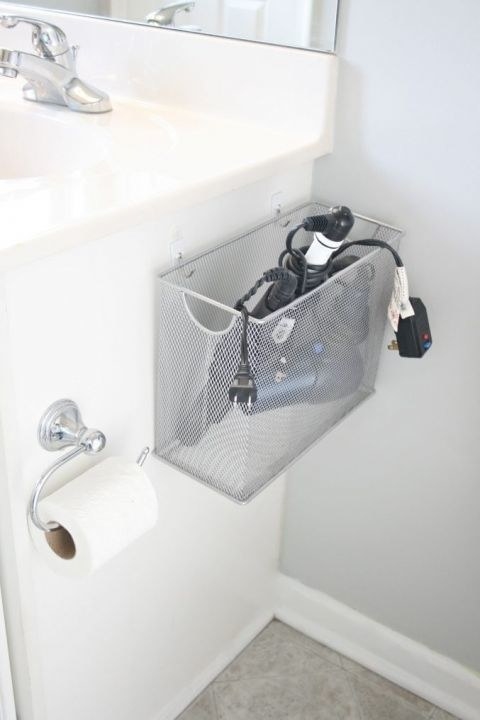 22.
Hang your hair dryer almost anywhere that's most convenient for your particular bathroom with the help of a removable adhesive hair dryer coil.
23.
Or if you actually have enough drawers to dedicate one to your hair tools, empty toilet paper rolls can help corral the cords and prevent tangles.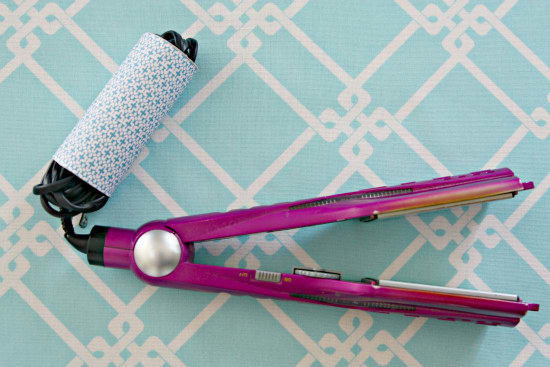 24.
Desperate for more storage space? Look no further than (directly above) your toilet and install some extra shelves.
25.
Or go super simple, and mount lightweight baskets on the wall.
26.
Use mini plastic drawers to turn a messy medicine shelf into an easy-access dispensary where you can always find anything you need, no digging through multiple boxes required.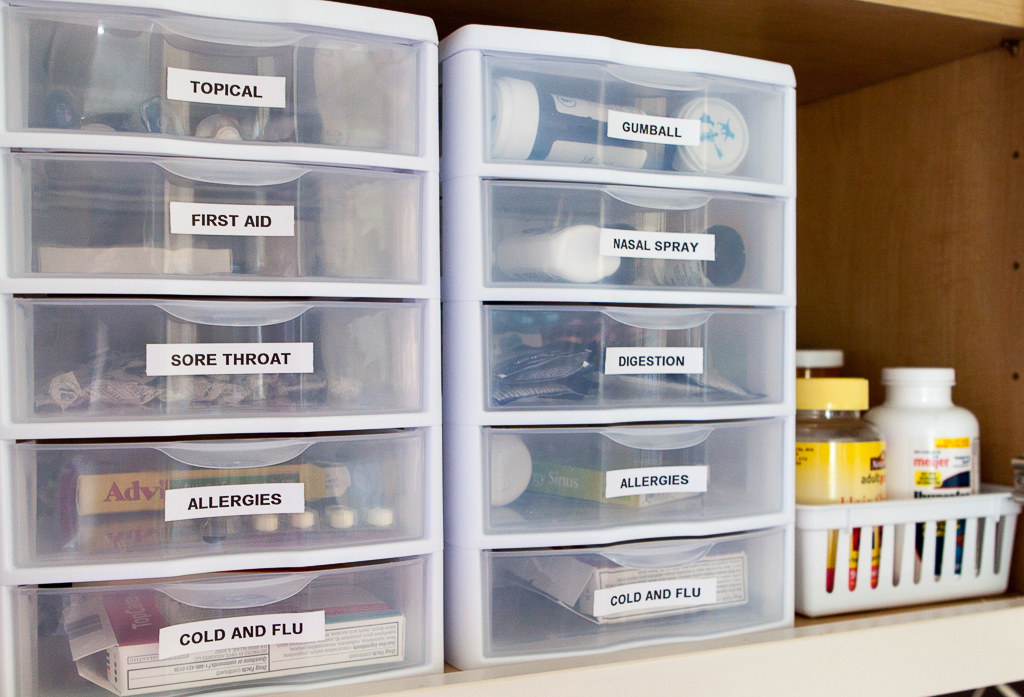 27.
Find what you're looking for in the linen closet and stop the washcloths from getting buried under the bath towels with large bins.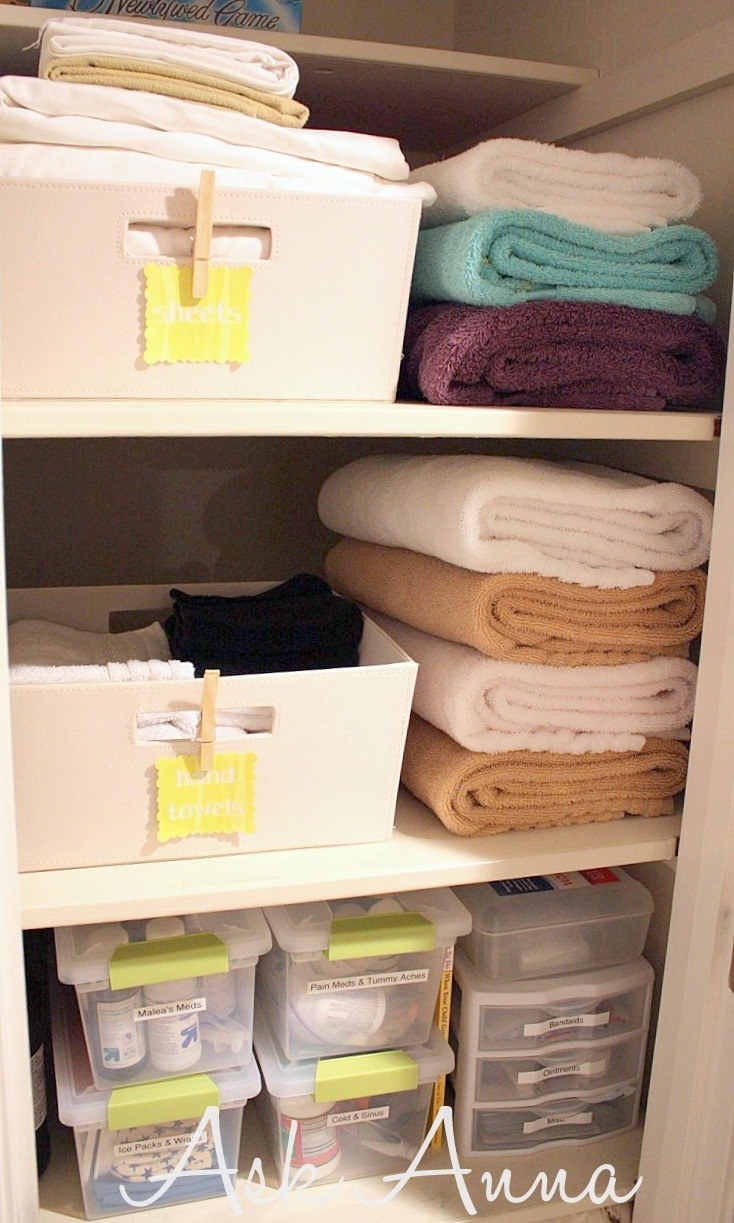 28.
And, if you store your sheets near your towels, keep 'em neat by sliding the full set inside one of the pillowcases.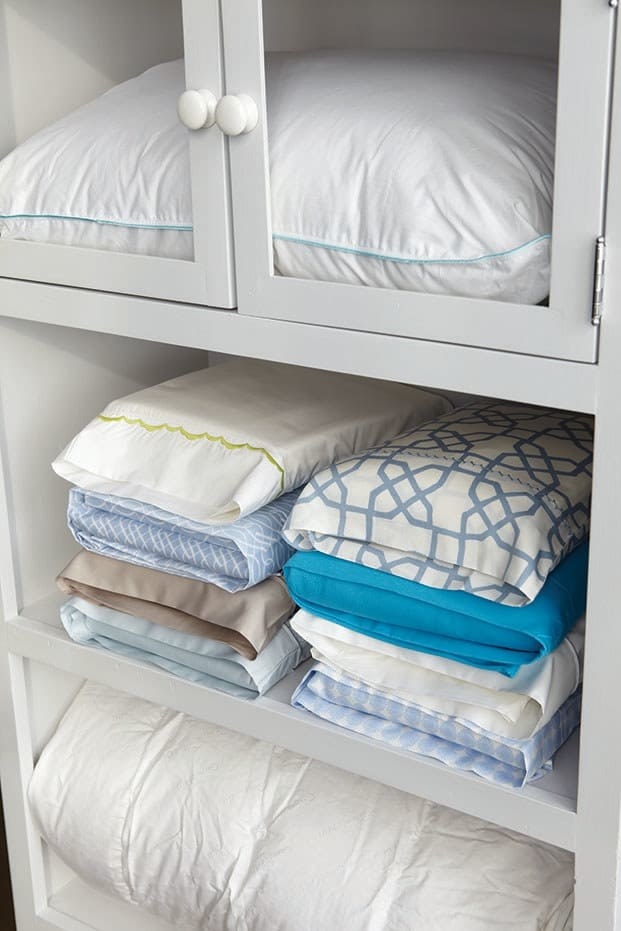 Shopping for something specific? Check out Angle News Reviews to find the best things for every budget!