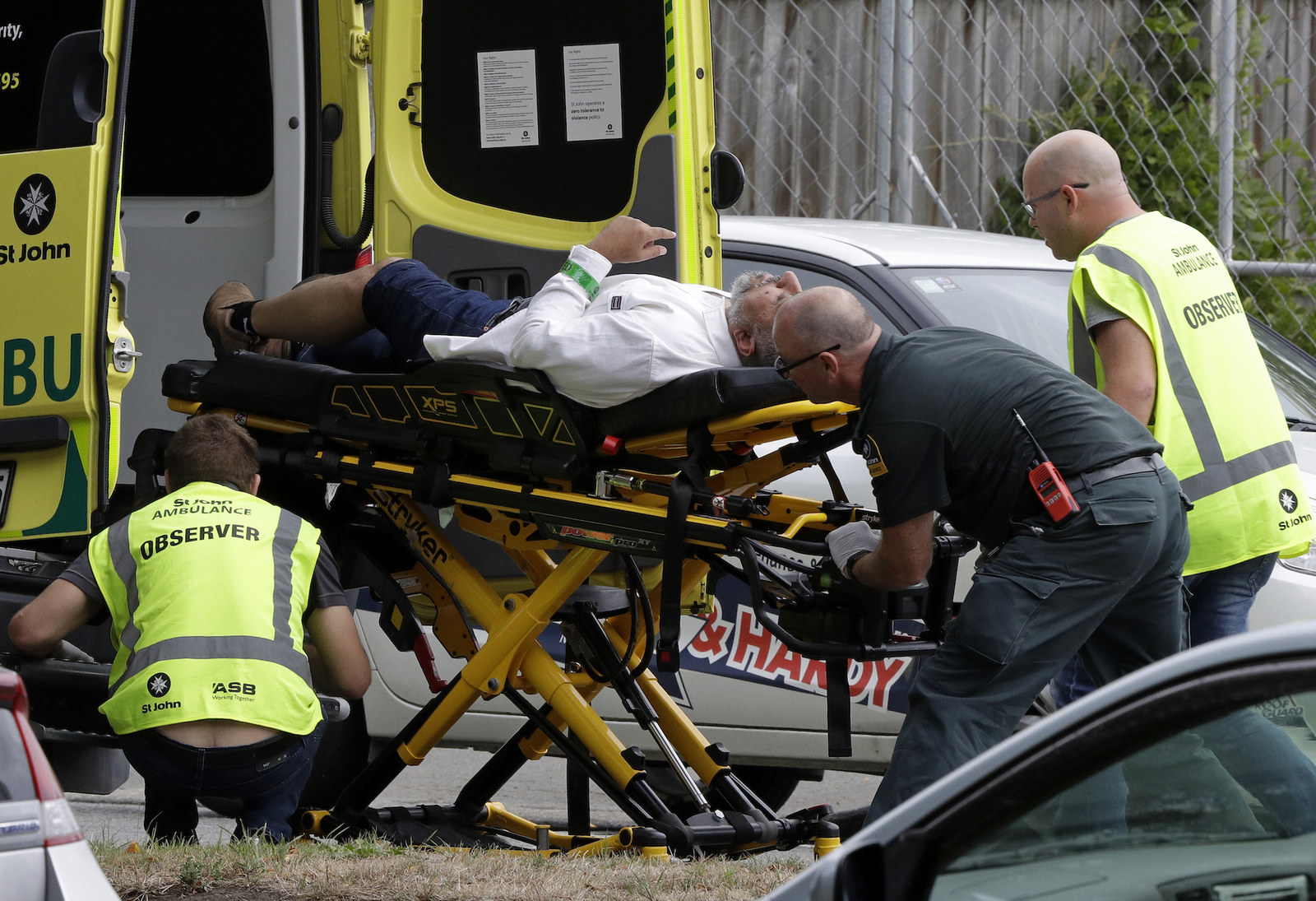 What We Know So Far
There are "multiple fatalities" after shootings at two mosques in Christchurch, New Zealand.
A suspect has been taken into custody but police "believe there may be other offenders."
A gunman appears to have live-streamed video of the attack online and left a lengthy racist manifesto where he described the victims as "invaders."
At least one body could be seen on the ground outside a mosque. A witness told the Associated Press "many people have been killed."
Residents in the city have been asked to remain indoors and climate change rallies taking place across the city have been evacuated.
"This is one of New Zealand's darkest days," said prime minister Jacinda Ardern.
Players from the Bangladesh Cricket team escaped the deadly shooting in Christchurch.
All members of the Bangladesh Cricket Team, who were at Christchruch for an upcoming match, escaped the deadly shooting at two mosques and the nearby streets.
Minutes after shots rang out in the New Zealand town, players from the team tweeted having to escape the violent attack.
"We r extremely lucky," one of the players, Mushfiqur Rahim, tweeted. "Never want to see this things happen again…pray for us."
Team officials said in a statement that all players had returned to their hotel and were deemed safe after the attack.
—Salvador Hernandez
New Zealand police are due to hold a press conference at 5pm local time (in around 30 minutes).
Australian prime minister Scott Morrison has tweeted.
Jacinda Ardern is taking questions. She said she can't confirm the number of deaths or injuries but repeats "this is, and will be, one of New Zealand's darkest days".
Asked if she viewed the shooting as a "hate crime", Ardern replied: "I would describe it as an unprecedented act of violence, an act that has absolutely no place in New Zealand. This is not who we are."
"Certainly, it has occurred in a place where people should have been expressing their religious freedom. Where they should have been in a safe environment. And they have not been today.
"There is no place in New Zealand for such extreme acts of unprecedented violence. The people who were the subject of this attack today, New Zealand is their home. They should be safe here. The person who has perpetuated this violent act against them, they have no place in New Zealand society."
—Lane Sainty
New Zealand prime minister Jacinda Ardern is now speaking. She says: "This is one of New Zealand's darkest days."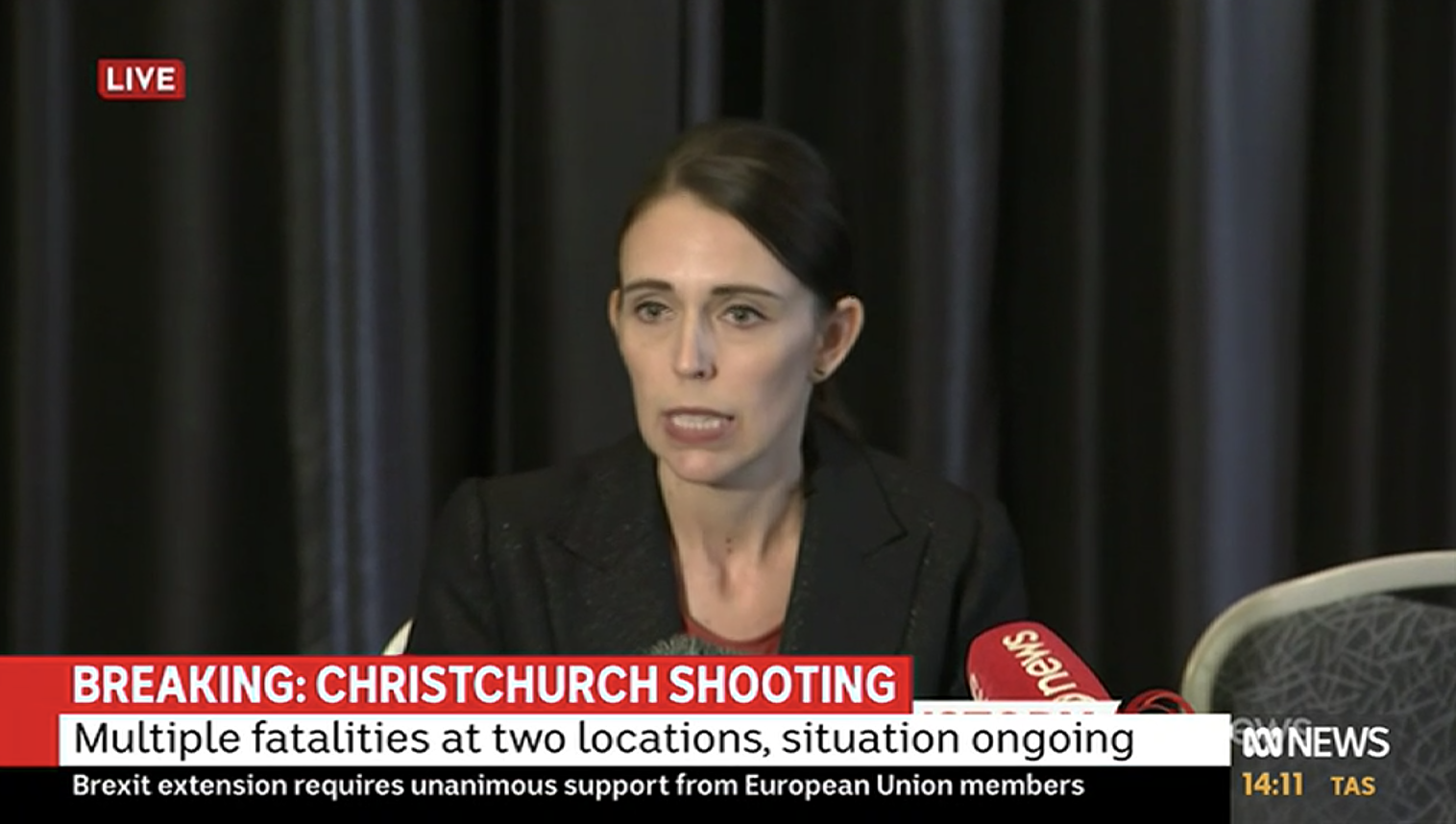 "Clearly, what has happened here is an extraordinary and unprecedented act of violence," Ardern said.
She confirmed police have one suspect in custody and there are multiple scenes.
"Christchurch Hospital is dedicated to treating those who are arriving at the hospital as we speak as well. As soon as I leave here, I will be returning directly on a flight to Wellington. Agencies are already convening in Wellington. I will be looking to meet with them as soon as I land."
—Lane Sainty
Police say there are multiple fatalities at two mosques in the Christchurch area
New Zealand Police Commissioner Mike Bush said in a live-streamed video statement Friday that there were multiple fatalities after shootings at two mosques in the Christchurch area, adding that one person was in custody.
"We are dealing with a very serious and tragic series of events," Bush said in the video posted to Facebook. "We have one person in custody but we are unsure if there are other people."
Bush said the fatalities occurred at a mosques on Deans and Linwood Avenues, adding that police were unsure whether any other locations that were "under threat."
"Stay indoors if you're in that location," he said. "I want to ask that anyone that was thinking of going to the mosque anywhere in New Zealand today not to go. Close your doors until you hear form us again."
—Stephanie K. Baer
The gunman appears to have live-streamed video of the shooting online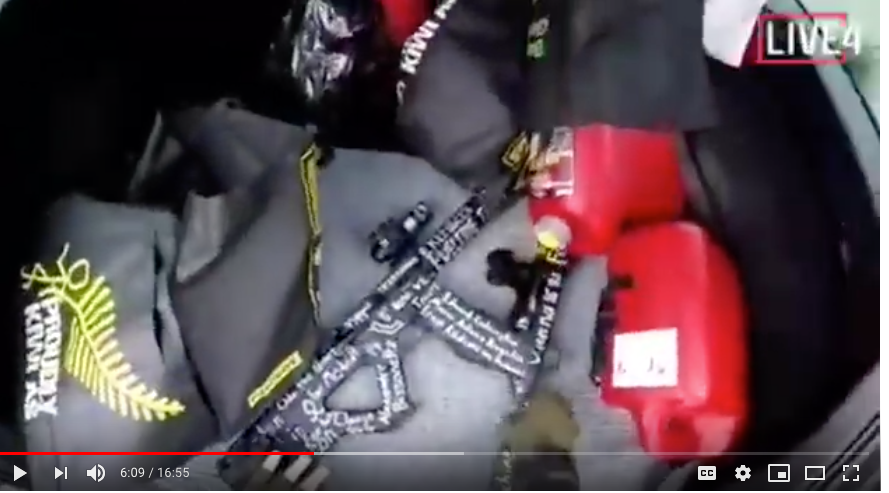 The gunman appears to have live-streamed the shooting, filming himself loading several weapons inscribed with names into a silver van and driving to the mosque.
Gun drawn, he walks through a gate to the entrance of the mosque and begins firing on people inside. According to the footage, the gunman was live-streaming through a GoPro device and onto Facebook. The nearly 17-minute video was also posted onto YouTube.
In the first few minutes, the gunman says, "Remember lads, subscribe to Pewdiepie," a popular Swedish YouTuber who has spewed racial slurs and made anti-Semitic comments on his channel.
A Twitter account that appeared to be associated with the gunman posted photos of the weapons used in the attack footage. The user also appears to have shared links to a manifesto around the time the shooting began.
At more than 74 pages, the document outlines a white supremacist motivation for the attack. The writer, who identifies himself as a 28-year-old white man born in Australia, quotes the so-called 14 Words, the slogan shared by white supremacists worldwide. He said that while he supported white nationalist groups, he alone had decided to carry out the attack. He described the victims as "invaders" and accused them of seeking to replace white people. He wrote about attacking two mosques, one in Linwood and one in Christchurch. He focused on the latter because it was the largest, he wrote.
The Twitter account only started posting content on March 12, repeatedly sharing white nationalist content about "illegal immigrants." Twice, the user shared a Facebook profile for the Otago Muslim Association, which the manifesto said was the first choice for the attack.
In one tweet, the user posted a Daily Mail story about a stabbing attack at a restaurant in Berlin. In response, he wrote, "How many of these attacks are quickly forgotten?"
—Brianna Sacks
New Zealand prime minister Jacinda Ardern will address the nation at 4pm local time (in around 20 minutes), Sky News has reported.
Several hundred people were at the mosque when shooting began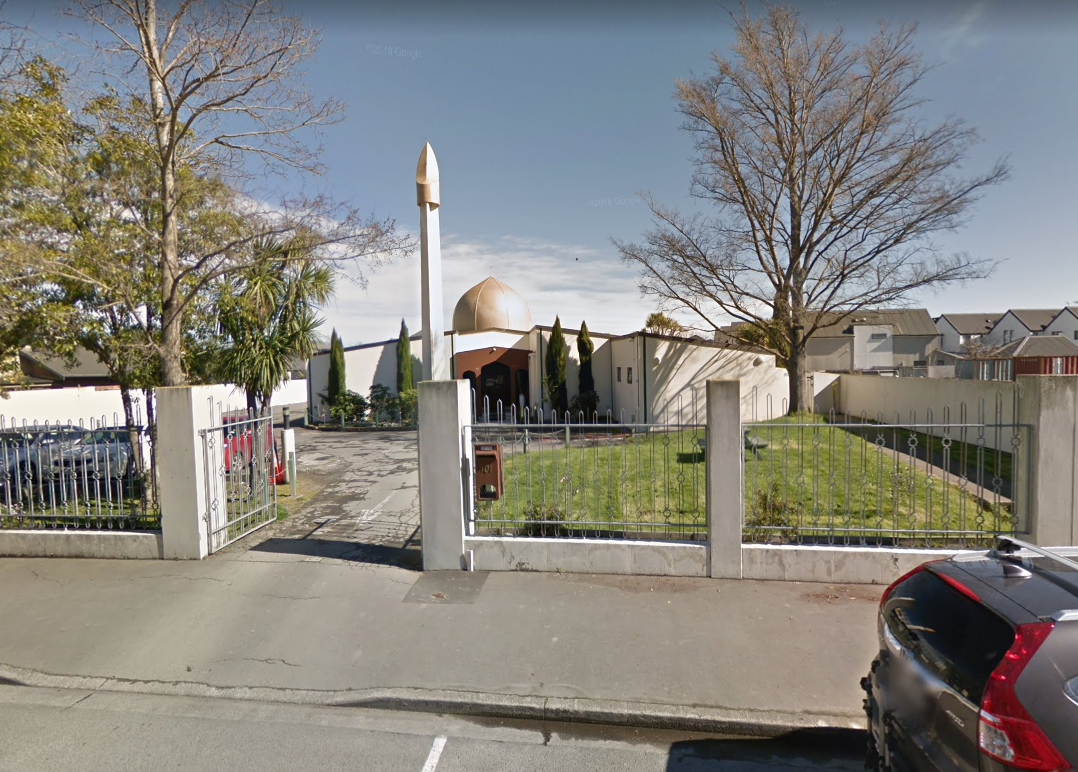 Friday's shooting took place during scheduled prayer at Masjid Al-Noor, which regularly draws several hundred people.
The mosque was built in 1985 and was the first in Christchurch.
Eyewitness Mohan Ibrahim told the New Zealand Herald he was one of hundreds of people in the mosque when shots were heard on Friday afternoon.
"At first we thought it was an electric shock but then all these people started running," he said.
"I still have friends inside. I have been calling my friends but there are many I haven't heard from. I am scared for my friends lives."
Here is the latest update from police:
An eyewitness has told The Associated Press they believe "many people have been killed" in a mass shooting in the Masjid Al Noor mosque.
Len Peneha told AP he saw a man dressed in black enter the mosque and then heard dozens of shots.
"I saw dead people everywhere," he said.
Peneha said he saw the gunman flee before emergency services arrived.
Climate change rallies across Christchurch have been evacuated and prime minister Jacinda Ardern has cancelled all her events for the day, the Guardian has reported.
Sky News has reported that hundreds of people were inside the mosque when a gunman opened fire.
New Zealand Police have released the following statement:
A serious and evolving situation is occurring in Christchurch with an active shooter.
Police are responding with its full capability to manage the situation, but the risk environment remains extremely high.
Police recommend that residents across Christchurch remain off the streets and indoors until further notice. Christchurch schools will be locked down until further notice.
Police thanks the public for their cooperation and will provide further updates to keep residents informed.
The Bangladesh cricket team were reportedly at the mosque for morning prayers.
Police are responding to reports of shots being fired in central Christchurch, New Zealand.
In a statement, Christchurch police said armed officers had been deployed.
"Police urge anyone in central Christchurch to stay indoors and report any suspicious behaviour immediately to 111."
The New Zealand Herald has reported the incident occurred at the Al Noor mosque and that there were reports of casualties.