Police have named a wanted man after a stolen car was driven at speed towards cyclists during morning rush hour.
The Met Police issued a photo of "reckless driver" Shane Seymour following an incident in Clapham, south London, on 1 August.
Members of the public are warned not to approach Seymour if they spot him, but to instead immediately contact officers.
Scotland Yard described it as "only a matter of luck that no one was seriously injured or even killed" after a black Audi, known to be stolen and with false plates, was driven at cyclists.
A YouTube video showed head-cam footage from one of the cyclists involved in the incident.
Between 7.50am and 8am on 1 August, a 50-year-old man cycling along the A24 reported to police he saw a man driving a black Audi A3 involved in a verbal altercation with two other cyclists ahead of him.
A short while later, the same car narrowly avoided hitting the cyclists near the railway bridge at Clapham North station.
The man reported the driver nearly knocked him into the road after he had overtaken another cyclist in the bus lane.
Following this, the man and Audi driver pulled up beside each other at the next set of traffic lights, where the driver began throwing objects at him from within his car.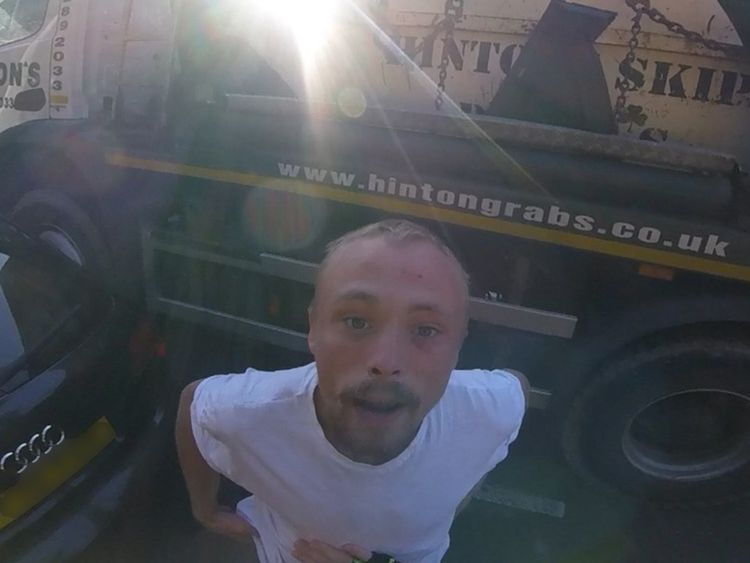 Footage showed a driver throwing litter and shouting: "Don't f****** say nothing. Move from my car… move from my car bruv, move from my f****** car."
When the lights turned green, the car drove at speed towards the cyclist before changing direction.
The driver then turned on to Dorset Road, where eyewitnesses said he nearly hit another cyclist before engaging in an argument.
He then drove on to the pavement and footage appears to show a man shout at a gathered group of cyclists: "I will f****** run you lot over."
An unmarked police car then appeared and a uniformed officer attended the scene, as the driver reversed at speed down Dorset Road.
Police first issued an appeal over the incident on Sunday and have now published an image of their main suspect.
Detective Constable James Preston from Brixton CID, said: "Today we are naming this man as Shane Seymour. He is known to have links to south London and the Canterbury area.
"Have you seen him, or do you know where he is? Please contact us or Crimestoppers if so as we urgently need to speak to him in relation to this matter.
"If any members of the public spot him, do not approach him but call 999 straight away.
"It is only a matter of luck that no-one was seriously injured or even killed by this reckless driver. The sooner we can apprehend him, the better."
:: Anyone with any information is asked to call police on 101 and quote CAD 1581/1Aug. Alternatively, contact Crimestoppers anonymously on 0800 555 111.