A supply teacher who posted messages on Facebook referring to his pupils as "c****" has been banned from the profession for life.
Kevin Regester, 52, admitted being behind a page on the social media site in the name of "Kev Raven", on which he posted messages parents found offensive, including: "One seriously mixed day. 2nd set Y10. The kids are C****…Y9set2 excelled themselves to piss off. One little scrote."
Another read: "Yesterday was about ripping new c**** & a********. Today: ripping off heads & s******* down necks! All in the name of education."
A Department for Education (DfE) professional conduct panel also highlighted a number of "racist" posts which contained offensive remarks about Muslims.
Regester was suspended from teaching secondary school students at Thomas Estley Community College in Broughton Astley in Leicestershire after a parent complained about the posts.
As well as the charge of making offensive and/or racist comments on Facebook, Regester was found to have shown a "lack of tolerance and respect for the rights of others", as well as providing false information to a recruitment agency and lying.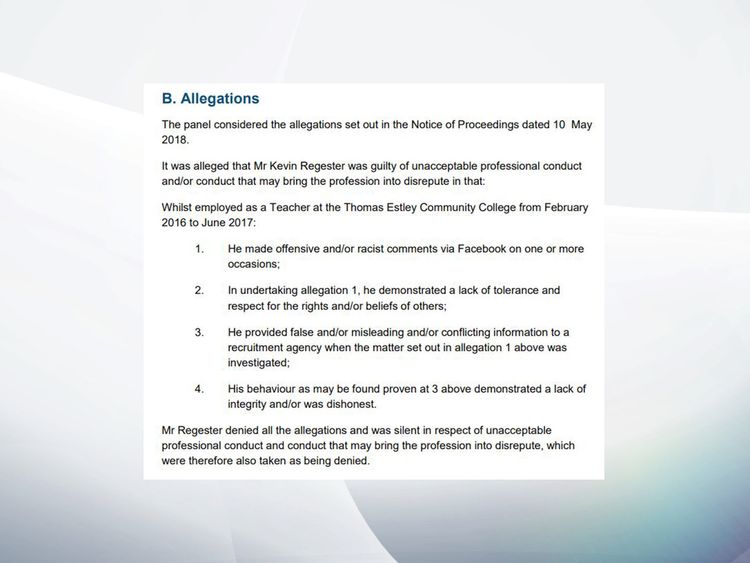 The DfE decided he should be banned from teaching for life after a professional conduct panel found his actions amounted to "unacceptable professional conduct" and "conduct that may bring the profession into disrepute".
He initially denied being behind the "Kev Raven" page, telling the panel his wife's Facebook account may have been hacked, but later admitted to the Teaching Regulation Agency (TRA) that it was his account.
Regester, who did not attend the hearing in Coventry, said in correspondence that "offence is a perspective issue", adding that he no longer works as a teacher and has no wish to return to the role.
"I may have expressed intolerance towards regimes and practices that themselves promote general intolerance," he wrote.
"It is my belief that I, my family and friends, have the right to live in a society that is free from oppression," he added.
The report stated: "In the panel's view, the comments included extreme swear words used repeatedly, including direct reference to pupil year groups, and religious caricatures that could only be reasonably determined as racist considering their content.
"It was clear that the comments were offensive and racist," it added.