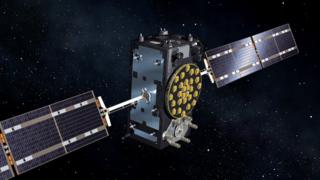 The UK wants the EU to repay £1bn if it is excluded from the Galileo satellite navigation system after Brexit.
David Davis's Brexit department will also warn the scheme could cost the EU an extra €1bn (£876m) without the UK's continued involvement.
The row could harm wider post-Brexit security co-operation, it will say in a paper to be published later.
UK ministers are angry about the EU's decision to limit access to Galileo, an alternative to the US GPS system.
The UK played a major role in developing satellites for Galileo, which is expected to be fully operational in 2026.
UK ups the ante on Galileo project
Brexit customs plan 'could cost £20bn'
But Brussels has cited legal issues about sharing sensitive information with a non-member state for its decision to shut British firms out of the project.
Brussels has also said it will restrict access to encrypted signals from Galileo, prompting the UK government to threaten to build its own satellite navigation system.
The UK government has also threatened to block Galileo satellites from using ground tracking stations in British overseas territories such as the Falklands.
The European Commission says the UK will have to apply to use the Public Regulated Service (PRS), a key element of the Galileo system, like any other non-EU country after its March 2019 departure.
A navigation and timing signal intended for use by government agencies, armed forces and "blue light" services, PRS is designed to be available and robust even in times of crisis.
Brussels says the UK cannot immediately have access to it when it leaves the European bloc because it will become a foreign entity and PRS is for EU member states only.
In a document seen by the BBC, UK officials warn that excluding the UK from Galileo, contravenes the withdrawal deal agreed by Theresa May and the EU in December.
It says: "Excluding industrial participation by UK industry in security-related areas risks delays of up to three years and additional costs of up to €1 billion.
"It will not be straightforward to effectively fulfil all Galileo security work elsewhere," the document adds.
"The UK therefore has a strong objection to its ongoing exclusion from security-related discussions and exchanges pertaining to the post-2019 development of Galileo and the PRS, which serves to limit UK assurance in the programme and discourage UK industrial participation.
"Current EU restrictions on UK participation will have implications for the ceiling placed on future UK-EU security cooperation."
Sir Ivan Rogers, who quit as the UK's ambassador to the EU last year in protest at the "muddled" Brexit negotiations, suggested the EU was partly motivated by a desire to transfer work on Galileo to firms based in the EU.
In a speech on Wednesday, Sir Ivan said: "The UK genuinely wants to remain a major player in the project, with privileged ongoing access from outside the EU, and views its capabilities and contribution to date as giving it the right to that ticket.
"For the EU, the decision to leave inevitably entails relegation to a different role and status in the project, and, let's be candid, offers scope for EU located firms to take contractual business away from UK ones."
Sir Ivan also suggested in his speech that some in Brussels might also recall that the British government, under pro-EU Tony Blair, tried to prevent Galileo getting off the ground 18 years ago.
He said it was ironic that "a much more Eurosceptic set of politicians" were now "complaining bitterly" that "post Brexit, the field might be somehow tilted more against the depth of participation we now are enthusiasts for".
Separately, the UK has outlined the extent of existing law enforcement capabilities which would be lost if a bespoke security deal is not agreed after Brexit.
According to details of a presentation seen by the BBC, the UK says there will be "significant gaps" in a wide range of areas including prisoner transfers, asset recovery, sharing of financial intelligence, victim compensation and access to criminal records for child protection vetting.