The new year has just begun, and with CES 2019 on the horizon, we've assembled our list of picks vying for the top spot as best phone in the US. Apple released the iPhone XS, XS Max and the more affordable iPhone XR. The new OnePlus 6T hit the market with a price well below its competition while its specs and design are highly competitive. Samsung's Galaxy S9 and Note 9 continue to stand out. And, Google's new Pixel 3 and Pixel 3 XL have been contenders for the best camera phone.
It can be hard to keep track of all the great phones on the market, but we've thoroughly tested all of the best and determined which stand above the rest. We've got all the specs and details for you to compare and detailed accounts of how each phone performs. Whenever a new phone comes out, we'll see how it stacks up against the current roster of top smartphones. So, whether you're excited about a new iPhone or Android coming out or heard that a new phone has the best specs around, you can see where it ranks among the best smartphones right here.
With all the phones ready to compare, we'll make one thing clear. The best phone isn't simply the new iPhone, although our list is made up of familiar names: Apple, Samsung, Google and LG, all in the top 10. 
The good news is that our team of smartphone experts has tested the best phones released in the United States, and advocating the right one to buy is more than just a hunch for us. We'll tell you which phone is best and explain why on this page.
We test out the latest and (sometimes) greatest phones in comprehensive mobile phone reviews. That's our job. We're here to separate the best from the mediocre. To drill down to a list of our favorites in the US for January 2019, we based our newly updated rankings system on a lot of geeked-out factors: design, performance, battery life, camera quality, and consistency software updates. The truth is they're all so close, but you want to walk away with the greatest phone for you.
Why we have more than just a No. 1 pick: Your personal preference among iOS 12 and Android Pie could sway you to another device besides our top-ranked phone. No one in the US wants to get rid of iMessages, and we understand that. Likewise, Android is better for a lot of people who like to tinker with their settings – that's Google's speciality with its mobile OS.
Likewise, your contract with AT&T, Verizon, Sprint or T-Mobile is a preference. The best phone for AT&T may not be available on-contract on Verizon, and vice-versa. We have to take that into account when recommending phones.
If you didn't catch it the first time, spoiler alert, our top pick isn't just Apple's iPhone XS or iPhone XS Max. We're not that predictable. Before you lock into a binding contract or spring for an expensive unlocked phone, consult our best phone guide, updated regularly.
Image 1 of 6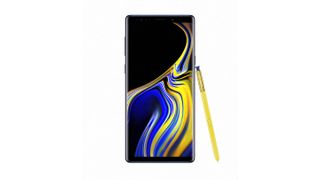 Image 2 of 6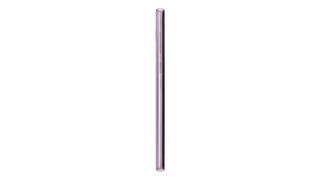 Image 3 of 6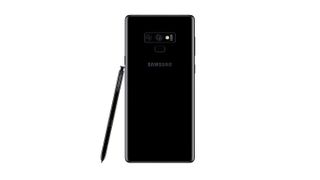 Image 4 of 6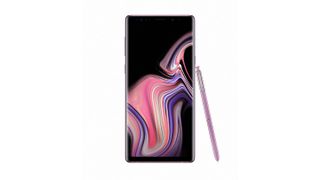 Image 5 of 6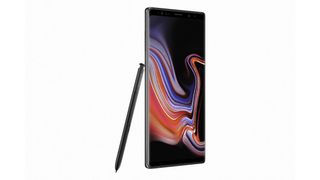 Image 6 of 6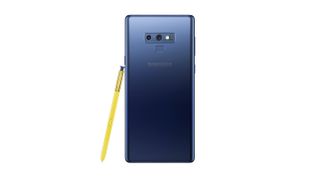 1. Samsung Galaxy Note 9
The best if you enjoy big phones
Release date: August 2018 | Weight: 205g | Dimensions: 162 x 76.4 x 9mm | OS: Android Oreo | Screen size: 6.4-inch | Resolution: 2960×1440 | CPU: Exynos 9810 | RAM: 6/8GB | Storage: 128/512GB (up to 1TB with card) | Battery: 4,000mAh | Rear camera: 12MP + 12MP | Front camera: 8MP
Much better battery
Improved S Pen
Hefty device to hold
Mostly iterative upgrades
The Samsung Galaxy Note 9 is the best phone you can buy today if you're not one to shy away from its $1,000 starting price for the 128GB version. The 512GB model is an eye-popping $1,250. But that version, when combined with a 512GB microSD card, gives you the first 1TB phone – bigger than many laptops sold in the US.
Screen: Samsung's 6.4-inch Infinity Display is slightly bigger (taller, but actually more narrow than the Note 8) and wraps around the sides for a nice curved look and feel. Samsung is anti-bezel and anti-notch. What you may not see at first is the extreme brightness of this display and the color reproduction. It's impressive when you see it in person.
Battery life: The Note 9 has a 4,000mAh battery and is the key reason we like it over the S9 Plus, the second best phone in the US. The capacity is 14.2% bigger than the S9 Plus and 33.3% bigger than the S9. It lasts all day with heavy use and deep into a day two with normal use. You can also charge over wireless easily, and fast charging boots in 17% battery in 15 mins.
Camera: The Note 9 camera is impressive, just like the S9 Plus six month before it, and it has the added benefit of remotely capturing photos from up to 30 ft away via the Bluetooth S Pen. Samsung also added AI smarts to the camera that automatically adjusts the white balance and color based on the scene it detects. The camera does as well as the Google Pixel 2 in low-light (sometimes better, sometimes worse, but not by much in either direction), and the default camera app is robust (more so than Google's), yet remains streamlined and initiative. It does lack HDR video recording, seen on other Android phones from Sony and LG.
Mini verdict: The Note 9 is bigger in all ways, including the price. It's one of the most expensive phones in the US, right up there with the iPhone X. But you're getting a better camera and more storage (and a microSD card slot) for your money. The battery is bigger, too. Samsung packs a lot into its all-day smartphone with a stylus.
Read more: Samsung Galaxy Note 9 review