Update: We may have seen the first photos of the iPad Mini 5, and they reveal a design that's similar but not identical to the iPad Mini 4.
The iPad Mini 4 launched years ago, back in September 2015 in fact, so we're long overdue a new model.
Despite that, rumors of the iPad Mini 5 (or iPad Pro Mini as it might be called) are thin on the ground. But we're starting to hear whispers that it could finally be close to launch.
We're also collecting all the news and rumors of what to expect, along with educated guesses based on what's gone before.
Cut to the chase
What is it? Apple's next mini tablet
When is it out? Maybe early 2019
What will it cost? Probably under $329 / £319 / AU$469
iPad Mini 5 release date
Hottest leaks:
Could land in early to mid-2019, if it ever arrives
There have been a couple of recent release date rumors for the iPad Mini 4. For one, respected analyst Ming-Chi Kuo has said that a new mini slate is in the works, and according to T3 it could land in early 2019.
That's a bit vague, but Apple often makes announcements in March, so that's a possibility.
We've also heard elsewhere that the iPad Mini 5 could land in the first half of 2019, which is even vaguer, but all the current rumors seem to suggest it's coming fairly soon.
But that's if the iPad Mini 5 is coming at all. The reason it has been so long since we've seen one and that there are so few rumors about the iPad Mini 5 could instead be because Apple's killing the range off. 
After all, with 6.5-inch handsets like the iPhone XS Max there's arguably less need for a 7.9-inch slate. Maybe we'll just never see an iPad Mini 5…
iPad Mini 5 price
Hottest leaks:
A starting price of under $329 / £319 / AU$469
There aren't any price rumors yet, but we'd expect the iPad Mini 5 will start at less than the iPad 9.7 (2018), which itself starts at $329 / £319 / AU$469.
That said, the iPad Mini 4 currently starts at $399 / £399 / AU$579 (albeit for a hefty 128GB of storage, which is the only size it's currently sold in), so there's a chance the iPad Mini 5 will cost more than the new iPad (2018).
iPad Mini 5 design
Hottest leaks:
A similar design to the iPad Mini 4
A redesigned antenna
There aren't many iPad Mini 5 design rumors, but we have now seen photos that might show it from the rear.
Pictured below, you can see that the main difference to the iPad Mini 4 is that rather than having a big antenna block on the cellular model, there's just a slim line. That improves the look, but might be the only change on the back.
Everything else looks similar, including a headphone port on the top edge, speakers on the bottom, and volume buttons on the right. The images also suggest you'll be able to buy it in gold. We would however take these images with a pinch of salt, as this is our first sighting of the slate.
Image 1 of 3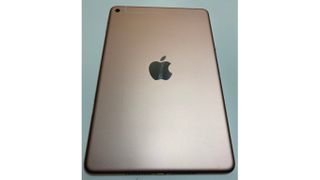 Image 2 of 3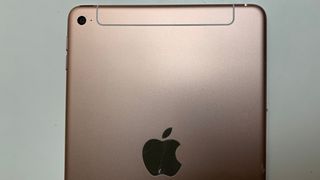 Image 3 of 3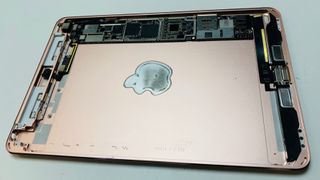 Beyond that, there's a good chance that it will have a lot in common with the iPad Mini 4, which basically means you can expect a slim metal shell.
Apple may aim to make it even slimmer and lighter than the 6.1mm thick and 299g iPad Mini 4 though, based on past form. There's been some suggestion that Apple could even slim it down to just 5mm thick – though the source of this rumor is unclear, and the rumor itself is old, so we'd take it with a huge helping of salt.
The iPad Mini 5 is also likely to retain the home button, large bezels and Touch ID, even though the iPad Pro 11 ditched those things. That's because reports suggest this will be positioned as a fairly affordable option, so we'd expect it to have more in line with the iPad 9.7 (2018) and indeed the iPad Mini 4.
Having said that, there has been some talk of a 7.9-inch iPad Pro model, perhaps set to be called the iPad Pro Mini, in which case it might get a redesign, but this rumor is very old, so we doubt it.
iPad Mini 5 screen
Hottest leaks:
A lower-cost 7.9-inch panel
The only screen rumor so far comes from analyst Ming-Chi Kuo, who says the slate will have a "lower-cost panel." That likely means an LCD one rather than the OLED panels found on the likes of the iPhone XS, and it also probably won't have fancy features like the 120Hz refresh rate found on Apple's latest iPad Pro slates.
One thing we can be fairly confident of is that the iPad Mini 5 will have a 7.9-inch screen. Apple's stuck with that size on all its mini slates and there's no room for it to change much without encroaching on either the 6.5-inch iPhone XS Max or the 9.7-inch iPad 9.7 (2018).
It's also likely to stay at a 1536 x 2048 resolution, given that this amounts to a pixel density roughly the same as the iPhone XR and higher than Apple's other slates.
Some things might change though, with True Tone for example being a likely addition. This automatically adjusts the color temperature of the screen depending on the ambient light and it's a feature we've seen on other Apple devices.
iPad Mini 5 camera and battery
A single lens rear camera
It may or may not have a flash
The main camera rumor so far comes from the photos above, which show a single lens camera with no flash.
However, a case supposedly for the slate has also been photographed and shared by SlashLeaks and ITHome. You can see this below, and note that the case has a cut-out big enough for a flash. We wouldn't count on a flash, as the iPad 9.7 (2018) doesn't have one, but the iPad Pro 11 does, so it's possible.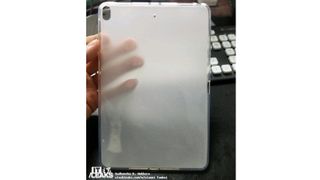 Our best guess is that it will have the same cameras as Apple's latest budget 9.7-inch iPad, which itself has the same ones as the iPad Mini 4, namely an 8MP f/2.4 rear camera and a 1.2MP f/2.2 front-facing camera.
However, there's an outside chance that it will instead get the same cameras as the iPad Pro 11 (a 12MP f/1.8 rear camera with a flash and a 7MP f/2.2 front-facing one), or something even better.
There's no news on what size the battery will be. There's a 5,124mAh one in the iPad Mini 4 and there's a good chance Apple will stick with something similar, though if it further slims the slate down some battery size may be sacrificed.
iPad Mini 5 OS and power
Hottest leaks:
Apple's iPad Mini range doesn't always have the most cutting edge chipsets, so while the iPad Pro 11 is using Apple's brand-new A12X Bionic chipset, the iPad Mini 5 may well stick with something slightly older, like the A10 Fusion from the iPhone 7 and new iPad (2018), or the A11 Bionic from the iPhone X.
The only news on that front comes from analyst Ming-Chi Kuo, who says the iPad Mini 5 will have "an upgraded processor", which doesn't tell us much, since we'd be very surprised if it didn't.
And it may not get any improvement in RAM at all, as the iPad Mini 4 already has 2GB of the stuff – the same amount as the iPad 9.7 (2018). That's less than some Apple devices, but this isn't likely to be a top-end device.
Assuming the iPad Mini 5 launches fairly soon it's also sure to run iOS 12.
iPad Mini 5 other features
We're not expecting many new features from the iPad Mini 5, but it might support the Apple Pencil, given that the iPad 9.7 (2018) does, despite not being a top-end slate. Of course, that's if Apple doesn't decide the Mini 5 is too small to work well with a stylus.
There's also a chance that we could get more and better speakers for improved sound, much like the Pro range has, and a Smart Connector for attaching a keyboard, though these additions are probably less likely than Apple Pencil support.
It's a real long shot but there's also an outside chance that the iPad Mini 5 will get Face ID. This has been included on the iPad Pro 11, but we expect Apple will keep the feature for its more expensive range of slates.